Deckhand Alex Radcliffe from Below Deck Mediterranean immediately had his eye on second stew Christine "Bugsy" Drake.
Previews trace that the 2 get cozy within the jacuzzi, but in addition Drake teased that viewers might even see her having a "boatmance" this season. "An interesting thing for me is I'm a lot more open to romance on a boat," she dished with Decider.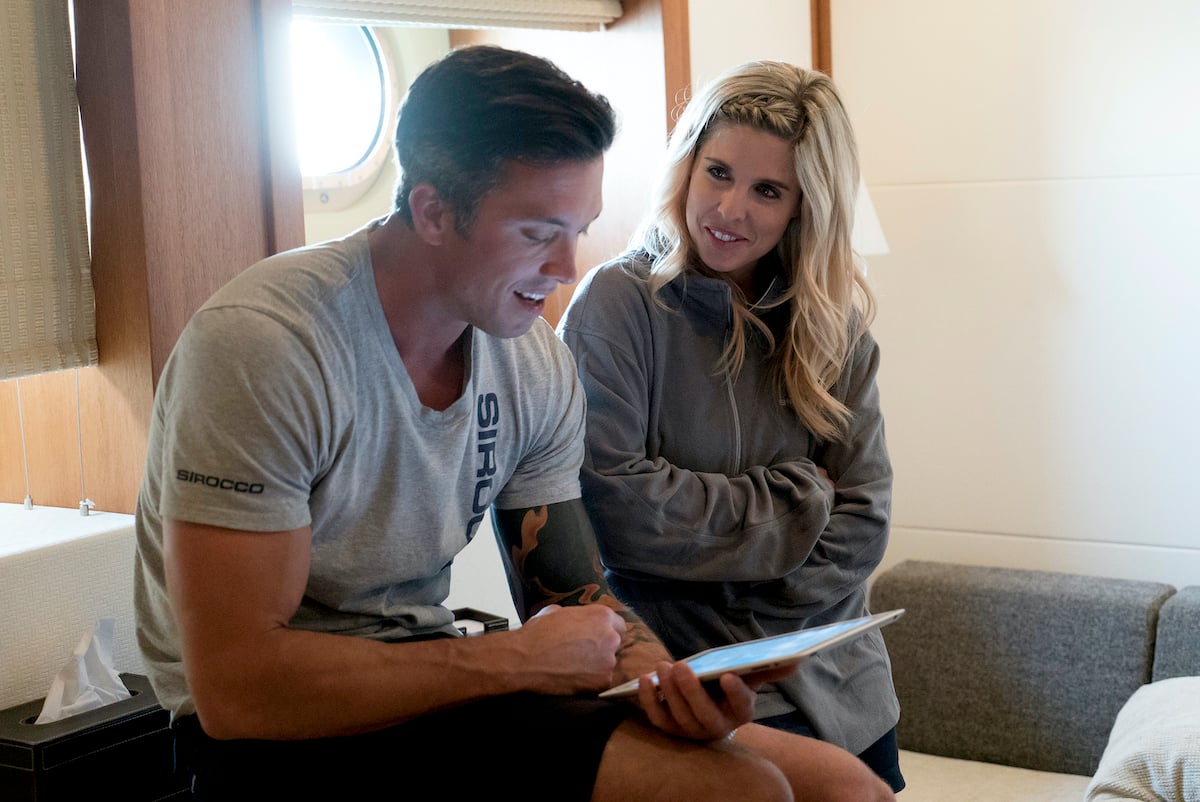 "Open to that, if anything's going to come from that," she hinted. "Trying to balance work and romance, which is something I've always been against. But I'm being kind of open to it this season."
"There's a lot to see this season. I think it's probably going to be one of the craziest seasons in the whole franchise history," she mentioned. "There's just so many exciting things — you never know what's around the corner. Things that even blew my mind. I'd say, for me, there's a lot of growth in my character this season."
Let the 'boatmances' start
Drake isn't the one stew hooking up with a deckhand. Third stew Jessica More and deckhand Robert Westergaard didn't waste a lot time earlier than they connected. The two appear smitten with one another, however Westergaard shared he's additionally concerned with another person on land.
Needless to say, their boatmance appears to stay out at sea. More and Westergaard don't comply with one another on Instagram. Plus More describes the romance as being intense. "They always say don't screw the crew," she instructed Showbiz Cheat Sheet.
RELATED: 'Below Deck Med': Jessica More Says She Was Just as Shocked because the Viewers by Lara Flumiani
"I like to figure people out," she mentioned as a result of Westergaard was very mysterious at first. "It really drew me to him because I just found it intriguing him being quiet. And he always looked like there was a lot of things going on in his head. So I think just my curiosity got the best of me and I wanted to figure out what was going on."
Drake shares why she returned to the present
Drake instructed Decider she was "done" with Ferrier after season 2. "I was caught off guard completely, hearing from Captain Sandy," she admits. "I'd just finished [another] stint and was just taking a little bit of a break before I got on another boat. The call came at pretty much the perfect time. When I first got the call from her, I was a little bit apprehensive. I wasn't really sure what position she was calling me in for."
"My questions for her were: 'What position am I coming to fulfill?' She mentioned it was a second stew position, and my first thoughts were: am I going to be working under Hannah again? Which was kind of a thing for me, because I'd always said after last season, I'm done with Hannah," Drake added.
Also, "I would never take another second stew position," she mentioned. "It was something I'd tried and tested and obviously didn't work for me in that case. It was definitely a big no-no. But Sandy is somebody I really respect, and I kind of felt, well you know what, why not? I've got the time to do it. Might as well help her out, she's in a bind. Maybe it's a shot at redemption for my relationship with Hannah. Maybe we can turn things around. I tried to look at it in a positive light."
So far, so good when Drake initially returns. But how lengthy will that final? "I mean, I try to keep it at least for a charter, I don't turn too negative," Drake mentioned. "This time around, I took the whole idea of it in a more humble approach, let me put it that way." She added, "I tried to put my ego aside. I had to keep reaffirming, in my mind, that I wasn't coming there for Hannah. I think that helped with keeping it positive and light."