Third stew Jessica More and deckhand Robert Westergaard from Below Deck Mediterranean have made it completely clear they're not relationship.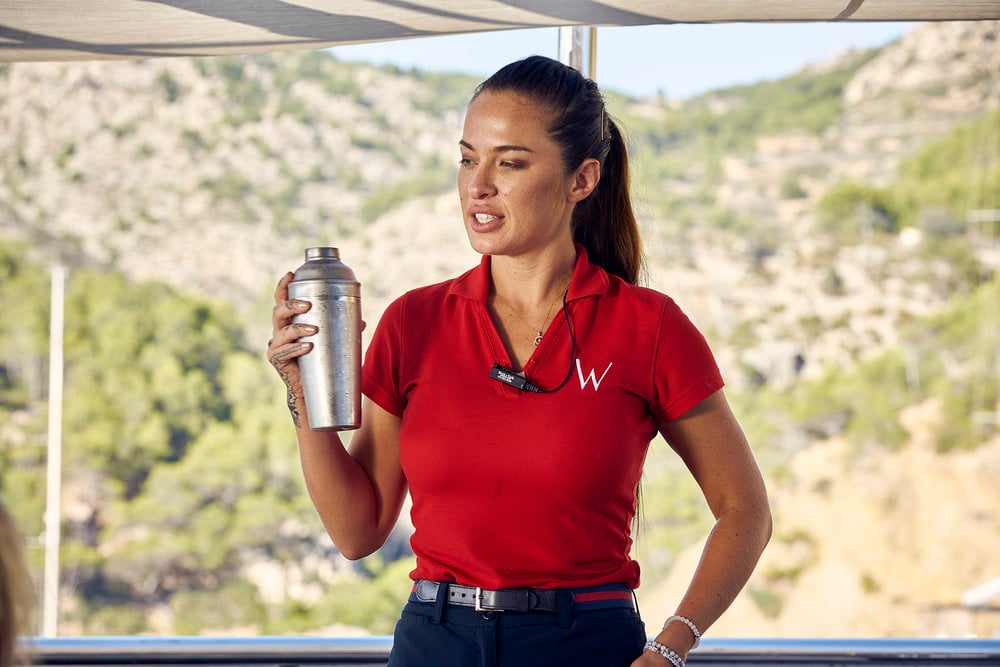 But was it the "I love you" Westergaard mentioned throughout a current episode that freaked out More? The couple is seen continually snuggling and kissing on the boat and More appeared virtually giddy to be in a brand new relationship. However, throughout a constitution visitor tour, Westergaard tells More he loves her.
Then he wonders if saying that after a number of weeks of relationship appears loopy. "Yeah, kind of," she tells him in a preview clip. She seems to be fully freaked out in a confessional too. "What!" she says laughing.
Too a lot too quickly?
The couple, who's all the time snuggling and cuddling on the boat, is doing what they do greatest whereas the visitors have lunch. Westergaard and More steal away to a non-public nook the place they kiss. More invitations Westergaard to spend Thanksgiving along with her household too. Westergaard shares in a confessional he feels secure with More.
"I've had this standard since my mother you know," he mentioned in a confessional. "We just understood each other completely. That was the last time I really felt seen. And now with Jess, I feel seen. And heard. Which is nice."
RELATED: 'Below Deck Med': Robert Westergaard Isn't Dating Madison Stalker however Did He Slide Into Hannah Berner's DMs?
As the couple snuggles he delivers his proclamation of affection. But she says nothing, besides, "What?"
Jessica More tries to deflect
"I'm sorry if I scared you," Westergaard says to her. The couple sits and More decides to have a look at her shirt and simply say, "Um …" Westergaard is now panicking and acknowledges in a confessional More mentioned nothing in return.
The scenario is clearly awkward. Instead of acknowledging the remark, More shifts focus to the visitors. "Are they ready?" she seems to be on the visitors. "I can't tell." She then walks over to the desk the place the visitors are eating to see how they're doing.
RELATED: 'Below Deck Med': Jessica More Felt Like She Was Walking on Eggshells and Questioned Her Abilities on the Boat
Although More and Westergaard had been away from the visitors, they know what's up. "Did you finish your romantic date?" one visitor jokes along with her. "Aww…."
Westergaard and More will not be on talking phrases
While some boatmances finish in friendship, this one is clearly out to sea. More lately opened up about the place her relationship presently stands with Westergaard.
"We don't really communicate," she informed InTouch. Adding, "He has a really good heart deep down in there somewhere. I wish him the best of luck but I don't think we'll really be communicating [in the future]."
Aside from the "I love you" there was additionally the problem with Westergaard having a girlfriend on land. She informed InTouch she felt slightly misled and confused about what was actually occurring with that relationship. "I don't know," she mentioned. "[And] I was confused, I was kind of being told one thing. And then hearing another. So I was just trying to figure out what the truth was I guess? While also building feelings for somebody."
RELATED: 'Below Deck Med': Jessica More Says She and Robert Westergaard No Longer Speak
Earlier within the season, she hinted at what viewers can count on with the romance. "It will get a little interesting, and entertaining … and steamy," she informed Showbiz Cheat Sheet. "It's definitely a 'boatmance' that happened." She added that it was additionally "intense."