Chief engineer Byron Hissey from Below Deck Sailing Yacht supplied just a few pictures and snippets about what occurs behind the scenes of the present.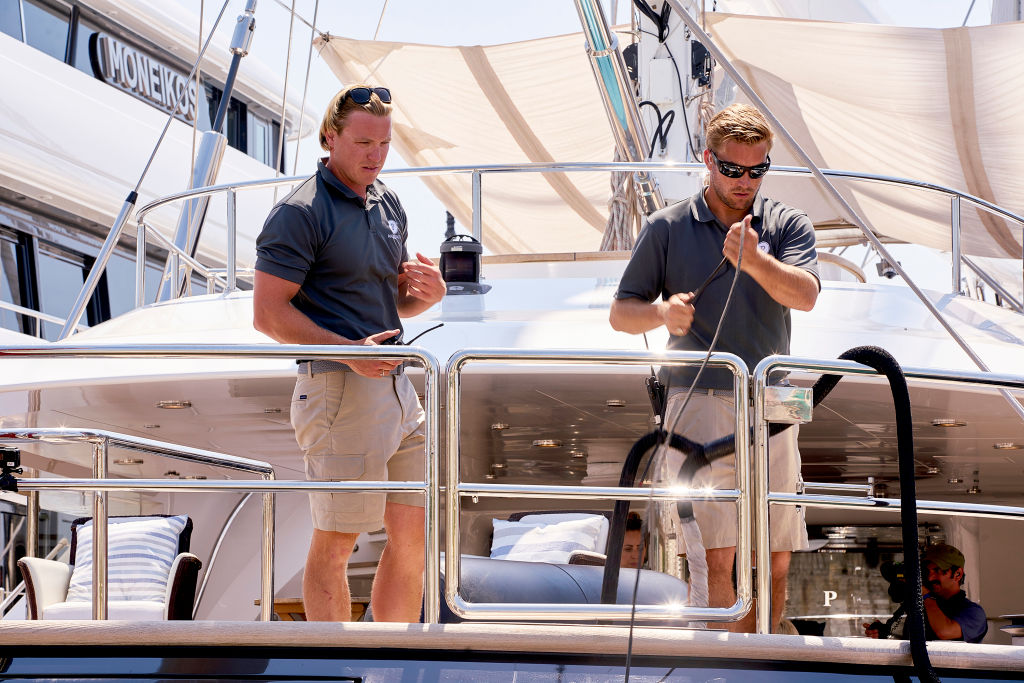 Hissey is the crew member who likes to seize a photograph of the cameraman in motion and he just lately shared that these cameras are fairly heavy to hold. "Behind the scenes from tonight's episode," he shared on Instagram on the night of the season finale. "The cameras are really heavy and the (production) crew work really hard."
"The editing team do an amazing job putting it all together. It's all filmed real time, as it happens, reality style. There's no "say that again, do that again, action!" Like within the motion pictures. #Bravo to all!" he added.
Hissey additionally shared one other picture of the cameraman who was stationed close to the galley kitchen, with a heavy digital camera sitting atop his shoulder.
Most company agree that the present could be very actual (however edits are made)
Hissey shared that whereas the present is shot in real-time, he credit the editors for placing the storylines collectively. But crew and company have mentioned that some really humorous moments have been left on the slicing room flooring.
Below Deck visitor, Linda P. Jones blogged about her expertise and mentioned she wished editors would have aired among the funnier moments she had on the present.
RELATED: This 'Below Deck' Charter Guest Spills About Whether the Show Is Real or Fake
"When we all went into dinner, he [Captain Lee Rosbach] joined us, and again we enjoyed listening to his stories and having a fun conversation," she wrote. "I don't know why Below Deck didn't use any of that dialog. They barely had us saying something, so I'm unsure why they select sure moments over one other. There have been some humorous issues that occurred that didn't make it onto Below Deck."
But some nonetheless assume they get a foul edit
Jones additionally insists the present is totally sensible. "The show is 100 percent real," she wrote. "The producers of the show basically said, we want to create an amazing trip for you. Just have a good time. Don't worry about the camera, don't think about it. Just enjoy yourself."
But one Below Deck visitor insisted he was portrayed to appear to be he was obsessed together with his telephone whereas on constitution. Charles Michael Yim, Breathometer creator from Below Deck season 6 shared on Instagram that producers thought his group was boring. So they created a storyline for them. He insisted, "they edited the footage to make it seem that we were on our phones all the time but that wasn't the case."
RELATED: This 'Below Deck' Charter Guest Insists the Show Is Fake (and Which Crew Member He Shades)
The notion behind a very edited storyline bubbled to the floor when an editor from Vanderpump Rules admitted she edited solid member Scheana Shay to look boy loopy in the course of the season.
"If Scheana knows what's good for her, she'd befriend me because my favorite game is finding all the embarrassing things that Scheana does and putting them all in," editor Bri Dellinger mentioned on a podcast, Page Six reported. The editor was fired after publicly admitting solid members have been edited with a sure slant.