MTV's The Challenge is a significantly powerful sport, and we've been watching the drama unfold on the present for 20 years. Now, the present is again with Total Madness. And host T.J. Lavin talked about it's slated to be probably the most tough season but.
It seems just a few veteran gamers are already seeking to strike some offers, too. Ashley Mitchell notoriously received $1 million on Final Reckoning, and he or she's on the lookout for one other huge win. And it looks as if she could also be hoping to workforce up with fellow veteran participant Mattie Breaux. Unfortunately, Hunter Barfield is warning Breaux that she shouldn't belief Mitchell due to his expertise together with her on Final Reckoning.
Ashley Mitchell betrayed Hunter Barfield on 'The Challenge'
Mitchell is probably not the most important bodily risk, however she's confirmed time and time once more that she's a tremendous social participant. And we'll always remember her large win on Final Reckoning when she was partnered up with Barfield.
Throughout the whole thing of the season, Barfield was arduous on Mitchell. And he even took to issuing empty threats to her and her household if she didn't pull it collectively and get them to the top. Luckily for the each of them, they have been in a position to work collectively and win the finale — however a twist ending allowed Mitchell to resolve if she would cut up the $1 million prize cash with Barfield or preserve all of it to herself. Because of Barfield's therapy of her, she stored the winnings.
"This guy has belittled me, put me down, slut-shamed me, and also threatened my life and my family's life," Mitchell stated. "I'm keeping the money. I would say I feel bad, but I don't …."
Barfield remains to be taking jabs at Mitchell for his stunning loss
Barfield was shocked that Mitchell was taking the entire cash for herself. But Mitchell's made it clear she has zero regrets. "I simply hoped I'd have the chance to inform him, all of the boys on The Challenge, and all of the boys on the earth that you simply simply can't say no matter you need and have every part be positive the following day," she instructed Bustle.
However, Barfield took to social media to slam Mitchell many times. "Ashley and I BOTH said things I'm sure we wish we could take back some of it you got to see but MOST of it you didn't," he tweeted again in December 2018. "Regardless I would have never taken the money she was my partner and she deserved it just as much as I did."
Barfield can be being attentive to MTV's Instagram for the present. "At least I was thanked," he commented on a video that MTV posted of Mitchell. And when a follower requested him if he'd unblock Mitchell on social media, he answered, "I have 500,000 reasons not too."
He's warning Mattie Breaux to not make any offers with Mitchell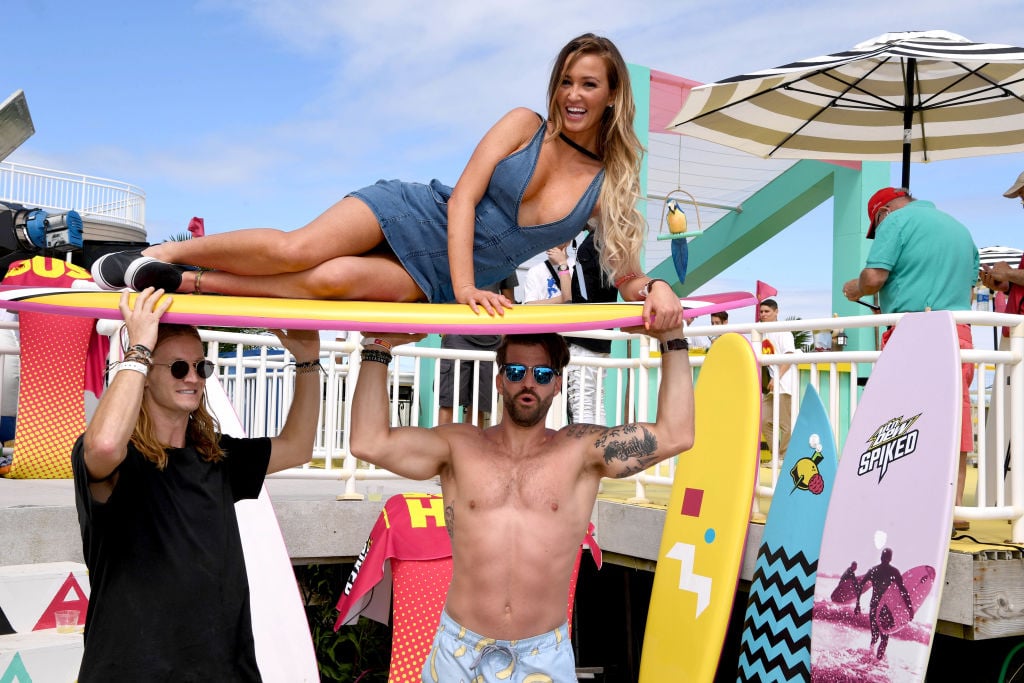 Barfield didn't return for Total Madness. But Mitchell did — and a clip from the present reveals Breaux making offers with Mitchell.
"I did not think I'd like Ashley," Breaux admitted to the digital camera after shaking Mitchell's hand in a deal. "Sometimes you have to keep your friends close and your enemies closer. I'll hear you out, see where we're going with this."
Barfield isn't impressed with this transfer, although. "I got 1 million reasons why you can't trust her @mattielynnbreaux," he commented on the video.
Fortunately for Mitchell, it appears lots of the feedback favor her aspect.
One follower commented to Barfield, "you had it coming though."
Another wrote, "You still are in denial of your disgusting behavior towards @mtvashleybrooke (your partner) the entire season… wow! Apparently, you've learned nothing till this day #smh …. Ash, I would've done the same! I hope YOU and your FAMILY have enjoyed being millionaires."
Fellow contestant Dee Nguyen is siding with Barfield, although. "Looks like a snake will be revealed," she wrote. "Great, now I can say I slept with 2 snakes 2 seasons in a row."
We'll have to attend and see if Breaux regrets her determination to work with Mitchell on this season of The Challenge!
Check out Showbiz Cheat Sheet on Facebook!