Elisabeth Hasselbeck is coming for The View co-host Meghan McCain after the latter shaded her. The conservative ladies are at odds with one another following Hasselbeck's look on the ABC speak present. McCain has blasted her on TV for saying she would pray the coronavirus away. Hasselbeck is now breaking her silence and firing again at McCain.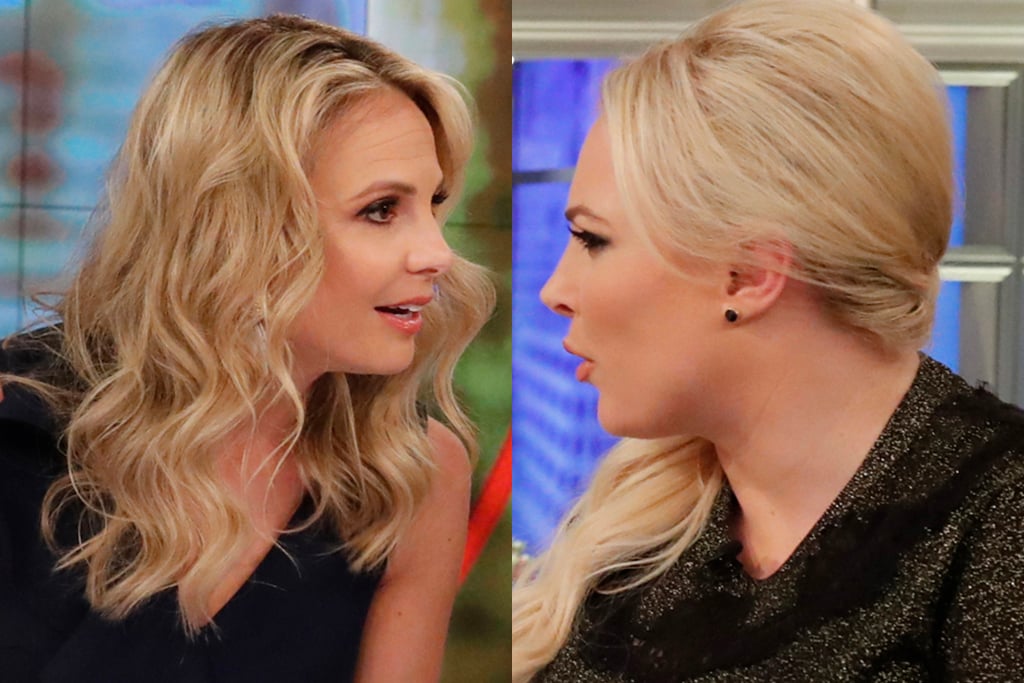 Why did Meghan McCain blast Elisabeth Hasselbeck?
McCain was the most important fan of Hasselbeck for being a conservative voice on The View panel. McCain was probably the most excited when it was introduced the OG would return to the present to visitor co-host.
On the day of her look, social distancing was beginning to happen and the present went audience-less for the primary time. One of the subjects laid out for debate was how Donald Trump was dealing with the pandemic. Joy Behar stated the president was clueless, and Hasselbeck pushed again saying he was being a powerful chief.
"There can be a fine line between what is taking precaution and what is panic," she stated. "Yes, we're going to take precautions, we're going to Purell, pray that God's got us in our tomorrows, right? We pray that this coronavirus is extinguished, that it's stopped in its tracks."
As a Christian girl, Hasselbeck seeks prayer to assist her get by way of conditions.
"I think we should prepare. I think we should pray. I'm not going to let coronavirus rule me!" she added.
Meghan McCain shades Elisabeth Hasselbeck
Days afterward The View, the women have been speaking about how Fox News anchors had been minimizing the coronavirus outbreak. McCain identified that it was not solely the cable community that had TV personalities not giving the pandemic the significance it deserved. Although she didn't identify Hasselbeck, it was clear McCain was alluding to her earlier remark.
"By the way, we had it happen on this show as well, not with me," McCain continued. "We had it occur on this present, lest we overlook, some Republican saying that we must always wash our palms and pray it away. It wasn't simply on Fox News that it was taking place, it occurred proper right here on The View."
During an look on Watch What Happens Live, McCain was requested by a fan to offer her ideas on Hasselbeck's means of dealing with the coronavirus. McCain doubled down on her stance calling it harmful.
"Someone actually sent me a screenshot of my face when she said that," McCain stated. "I took this virus seriously from the very beginning and I thought a lot of this rhetoric was really dangerous. I think it's really, really unfortunate and dangerous that she said that."
McCain pushed even additional saying she doesn't need to co-host with Hasselbeck once more.
"I don't need to co-host with her again," she added. "It's unfortunate because I've been a huge fan of her a long time. Anybody who is screwing around with this virus and putting out misinformation, I just don't really have a lot of time for right now."
Elisabeth Hasselbeck claps again at Meghan McCain
After McCain's opinion made waves on social media once more, Hasselbeck clapped again on Instagram at her fellow Republican.
"I don't like being misrepresented, so we're going to talk this out right here," Hasselbeck stated in her video.
On her post, Hasselbeck stated she would name McCain to "handle this."
"We are all just doing our best, and I don't know why you are taking an opportunity to be so aggressive toward me during such a stressful time," Hasselbeck wrote.
The former Fox & Friends co-host stated that we shouldn't be "judging one another" and that prayer would all the time be her "first response" and "best defense."
"We have had a family member hospitalized and I have asthma," she continued. "This is all hard and stressful enough — turn off the meanness as the world needs more togetherness and kindness. I'm praying today that you can lay off throwing the social darts at me. I am not sure why you decided to do this. I'm a momma on my knees in prayer like many others — let's get back in the same side and be in this together," she ended.
McCain has not publicly reacted to Hasselbeck's newest assertion.
The View airs weekdays at 11 a.m. ET and 10 a.m. CT/PT.